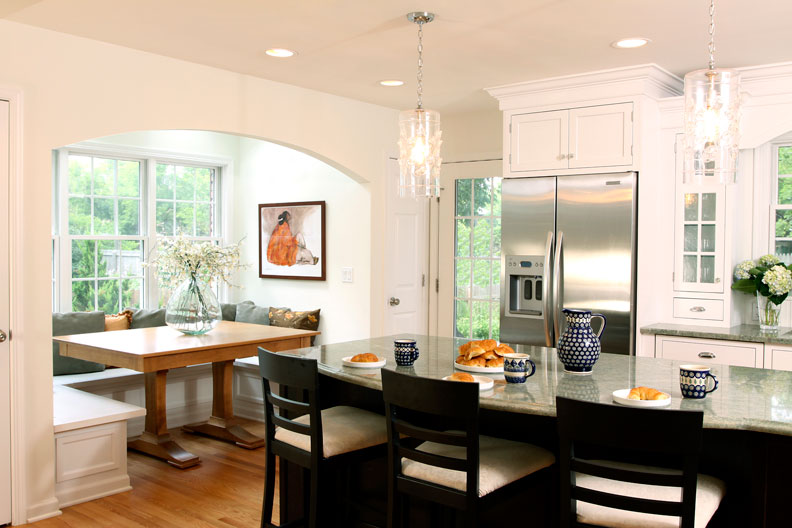 Warning
: Use of undefined constant linklove - assumed 'linklove' (this will throw an Error in a future version of PHP) in
/usr/local/dev/sites.buildzoom.com/wp-content/plugins/facebook-comments-plugin/class-frontend.php
on line
99
The 2012 "Designer Kitchens of the North Shore" kitchen tour presented by the Junior League of Evanston – North Shore will feature seven kitchens from prominent Chicago design and remodeling companies. One of the seven featured on the tour is a Wilmette kitchen renovation completed by Normandy Remodeling that has received wide acclaim and national recognition.
Normandy Designer Vince Weber worked closely with the owners of this 1960's colonial home to redesign the space to better suit their family's needs. The homeowners felt their small kitchen was isolated from the rest of the house and wanted to add a large eating area while opening up the kitchen to the adjoining living room. "They wanted to create a 'living kitchen' that would function as the central gathering space for the family," says Weber.
The new layout beautifully blends the kitchen and living space, and the thoughtful details within the kitchen add a timeless appeal. The soft green backsplash tile and countertop bring character and life when paired with the crisp white cabinets. The dark stained island looks more like a furniture piece, which helps to bring the two rooms together. Even the breakfast nook, bathed in natural light, adds to the casual appeal of the space.
This kitchen has received national design awards including the "Best of the Best" and "Remodeling Design Award" and has been featured in numerous national publications, most recently Kitchen and Bath Ideas, by Better Homes and Gardens.
Normandy Remodeling is a platinum sponsor of the 2012 "Designer Kitchens of the North Shore" kitchen tour in addition to being featured on the tour. The money raised from this event by the Junior League of Evanston-North Shore will fund future projects and programs of the organization. Tickets to the event can be purchased online at http://www.jle-ns.org/kitchen-tour.
Comments
comments
Powered by Facebook Comments