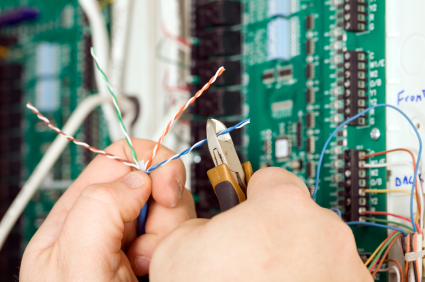 Warning
: Use of undefined constant linklove - assumed 'linklove' (this will throw an Error in a future version of PHP) in
/usr/local/dev/sites.buildzoom.com/wp-content/plugins/facebook-comments-plugin/class-frontend.php
on line
99
Technology is commonly sold as "plug and play" but it never really works that way.
That's where KMA Communications comes in, providing a wide variety of services to both residential and commercial clients assisting people with all their technology needs – from business phone systems, installations, computer networking, Internet set-up, voice and data cabling.  This business is a one-stop shop giving clients the opportunity to get their office and residences functioning properly.
"I'm here to assist and help people," says owner Kevin McPhetridge.  "I want to show people what kind of opportunities are out there and what's available today."
This Oregon contractor understands that the success of a business is dependent on the ability to build and maintain technology and telecommunications systems and offers the comfort and security of having an experienced professional available to support all of a client's telecommunications needs.
Five months ago, at the age of 36 and after working at a communications business for more than 17 years, Kevin found himself unemployed.  A familiar story these days, but within seven days of losing his job, this go-getter took matters into his own hands.  He passed his contractor's test, received his license, and started his own business, which is now flourishing.
"The best part of the business is customer interaction," Kevin says.  "I like the idea of empowering people."
Kevin's success is based on his ability to understand and meet every facet of his client's expectations.  Satisfied customers and letters of recommendations from local businesses give Kevin gratification and a sense of accomplishment.
For more information, call (541) 815-1708 or visit KMA Communications' profile on BuildZoom.
Comments
comments
Powered by Facebook Comments