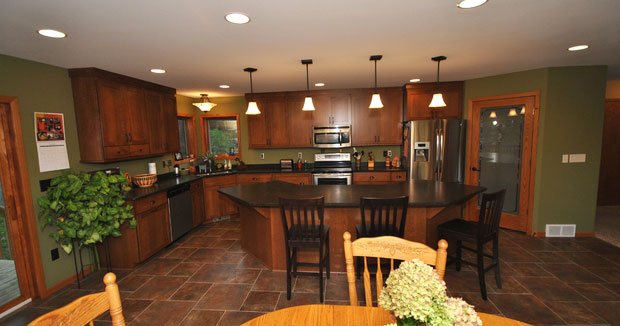 Warning
: Use of undefined constant linklove - assumed 'linklove' (this will throw an Error in a future version of PHP) in
/usr/local/dev/sites.buildzoom.com/wp-content/plugins/facebook-comments-plugin/class-frontend.php
on line
99
On February 22, 2012, Empire Development & Construction won three prestigious "Cut Above the Rest" awards from the Wisconsin Builders Association (WBA). These annual state awards showcase the work and commitment that WBA members have to the remodeling industry. Entries are judged by a jury of professionals in the remodeling and building industries.
The awards included one under the "Commercial" category for work completed on Dublin Square Irish Pub and Eatery; the company won a second award for a residential addition under the category "Addition under $75,000;" the final award was for a kitchen remodel under the category, "Kitchen Under $30,000."
"We were very pleased to have been honored with these awards by our fellow members at the Wisconsin Builders Association," says President Tony D. Szak. "Our team works diligently to ensure we provide the highest quality craftsmanship and customer service. To be recognized by our peers is an incredible tribute."
Winning entrees are selected and based on:
Unique, creative approach to design
Aesthetics and marketing appeal
Appropriate use of existing building elements
Compatibility with the neighborhood
Functional value and cost effectiveness
As of January 2012, Empire Development & Construction announced they will focus solely on residential and commercial remodeling. By changing the company's business plan to bring their mission into clearer focus, they can focus on giving their clients the best remodeling experience, helping clients add value to their property through renovations and energy efficient upgrades.
To learn more about this award-winning company, please visit their website www.empiredevelopment.com or check out their profile on BuildZoom.
Comments
comments
Powered by Facebook Comments