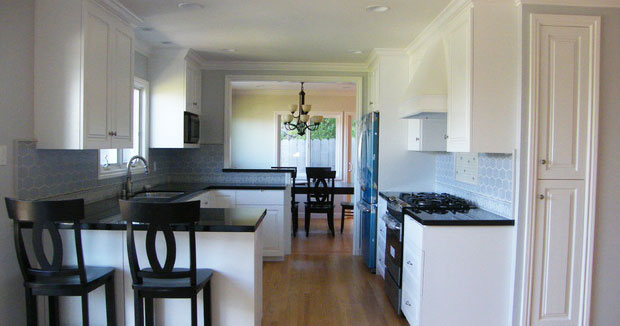 Warning
: Use of undefined constant linklove - assumed 'linklove' (this will throw an Error in a future version of PHP) in
/usr/local/dev/sites.buildzoom.com/wp-content/plugins/facebook-comments-plugin/class-frontend.php
on line
99
When Fidence Herrera of Herrera Construction was first approached to update a home for his clients in San Bruno, the initial plan was simply to update the kitchen and do some minor bathroom remodeling.  Once the project was underway, it became apparent that additional work would be needed to transform the existing residence into the type of home the clients would enjoy living in. So Herrera and his team undertook the task of completely overhauling a very dated home and turning it into a stunning, modern showplace.
Herrera began by removing everything in the home — doors, casings, baseboards, carpeting, kitchen cabinets. As the home was in its original state, he first needed to upgrade the electrical system to bring it up to current code.
Some restructuring was involved, especially in the kitchen. Herrera reconfigured the space to give a more open feeling to the area and added a window to the adjacent dining area to provide much-needed natural light to the space. Herrera replaced the existing cabinetry with custom-built units, installed granite countertops and also installed new appliances.
The existing fireplace was refaced with slate; a mantle was added for accent and then finished off with a new gas fireplace insert.
Herrera then set to work on the home's two bathrooms. Both bathrooms were also original and needed to be completely gutted and updated. He added a new tub, a complete shower enclosure, vanities, granite countertops and tile surrounds, with new fixtures to complete the makeover.
The home's floors were also given much attention. In the living spaces, they replaced old worn vinyl and hardwood floors with beautiful new hard wood flooring and refinished the existing oak floors.
Finally, the interior project was completed by installing raised panel doors, casing and baseboards, along with crown molding throughout the house.  Of course, both the interior and exterior of the home were completely repainted. At this point the only work left to do was building a new deck in the backyard for all to enjoy.
In the end, a residence built in the fifties received a major facelift, and both the clients and contractor felt the extra effort and time spent on the project were well worth it.
To find out more about this exceptional company, check them out on on BuildZoom.
Comments
comments
Powered by Facebook Comments