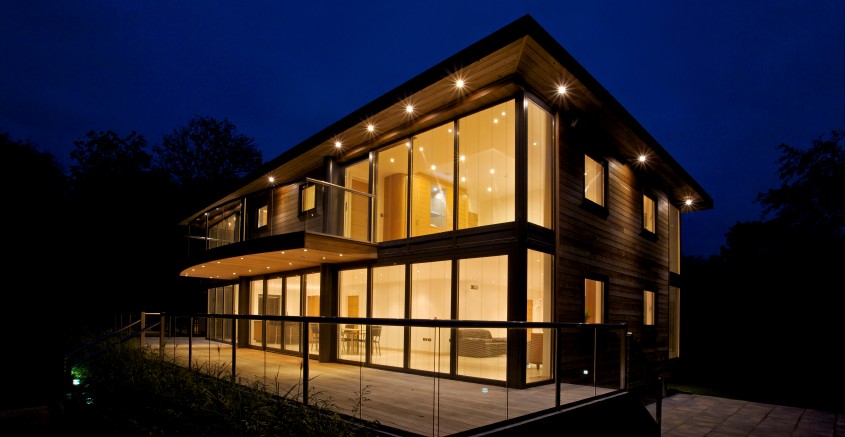 Warning
: Use of undefined constant linklove - assumed 'linklove' (this will throw an Error in a future version of PHP) in
/usr/local/dev/sites.buildzoom.com/wp-content/plugins/facebook-comments-plugin/class-frontend.php
on line
99
Recently homeowners are becoming tuned into the wide array of custom lighting choices available. Whether a homeowner wants to create a sense of sophistication, a magical ambiance, or lighting details that replicate an old sea captains home reflecting the surrounding outdoor environment, custom lighting is quickly becoming all the rage. In addition, the latest advanced technology offers safety, energy savings, and convenience.
"The great thing is that the new technology in lighting has recently come down in price and is more affordable for the average homeowner," Erik Poor, owner of Poorboy Electric and Lighting, points out.
Homeowners know that lighting can add sparkle to dark corners, illuminate an art collection, showcase landscaping features, or create the right ambience for an intimate dinner for two. However, the latest technology offers more convenience, security, and peace of mind than ever before. For example, a homeowner can roll over in bed and turn off all the lights in the house. A key pad can provide access to all areas of the home and yard and let a homeowner know if someone is on the grounds. Garage door openers can turn on the entry light or front porch light from 300 feet away.
"Homeowners don't have to go with cookie cutter lighting any longer," Erik says. "Anything can be installed or changed according to a homeowner's specifications."
Since custom lighting is an investment, homeowners should consider hiring an electrician who specializes in custom lighting. With the expertise to combine innovative ideas with practical logistics, an experienced professional can design and install systems unique to a homeowner's needs and lifestyle. Their skills will provide a perfect balance of security, function, and aesthetics. Most importantly, an experienced electrician can ensure safety by taking all the necessary steps to protect a resident's home and property.
Poorboy Electric and Lighting is up to date on all the latest technology and their attention to detail enables them to design and install custom lighting and lighting control right the first time. Locally owned and operated, they work with state-of-the-art companies such as Lutron Electronics, Tech Lighting, and Bruck Lighting. For more information about this exceptional company, please call (805) 452-6067 or check them out on the Web at http://www.poorboyelectric.com
Comments
comments
Powered by Facebook Comments