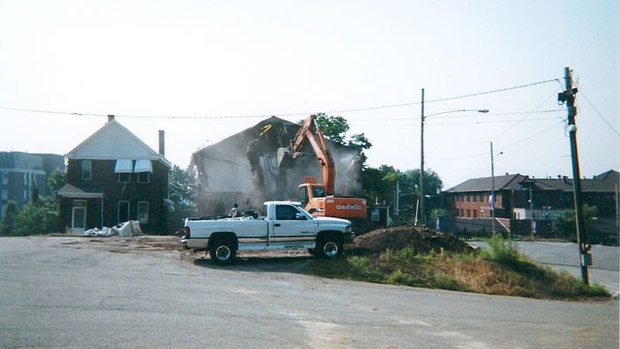 Warning
: Use of undefined constant linklove - assumed 'linklove' (this will throw an Error in a future version of PHP) in
/usr/local/dev/sites.buildzoom.com/wp-content/plugins/facebook-comments-plugin/class-frontend.php
on line
99
The year 2012 is proving to be an exciting one for JR Paving and Construction Company, Inc. as they "pave" their way to a successful year.
The paving, roofing, and demolition company recently purchased new equipment to become completely self-contained and better serve residential and commercial customers. The newly acquired equipment includes two new trucks, a walking floor trailer, and an excavator for their Demolition Department and an Etyner Distributor for tar and chip paving for their Paving Department.
In addition, JR Paving and Construction Co., Inc. hired Louis Lipps, a former Pittsburgh Steeler, as Director of Public Relations for their Demolition Department. A former American football wide receiver in the NFL, Lipps was named MVP twice during his career and earned two straight trips to the Super Bowl before retiring from football in 1993.
"I feel it's important to reinvest in our company and look for opportunities to diversify our service offerings," says President Morris (JR) Cooper. "The new equipment will help our workers continue to provide quick, efficient, and seamless work and lay the foundation for an even stronger future for our company."
JR Paving and Construction Co., Inc. is a family-owned and operated full service paving company with 40 years experience. Their wide range of services include paving, tar and chipping, seal coating, striping, excavation, grading, basing, pipe and conduit installation, ditching,  installation of drains and catch basins, concrete work, tie walls, tennis courts, running tracks, roofing, and demolition.
The company prides itself in maintaining safe work practices. In addition. JR Paving and Construction Co., Inc.'s Demolition Department reduces the environmental impact of demolition by reusing and recycling materials whenever possible.
"We handle each job as if it's our only job," states JR. "Without satisfied customers we wouldn't have been able to stay in business for 40 years. Whether it's a driveway, parking lot, roadway, tennis or basket ball court, roofing or demolition each job is handled with expert care and supervision. We are here to serve and please our customers."
Learn more about JR Paving and Construction on BuildZoom.
Comments
comments
Powered by Facebook Comments