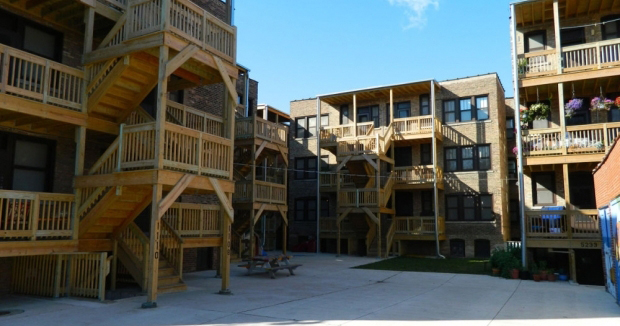 Warning
: Use of undefined constant linklove - assumed 'linklove' (this will throw an Error in a future version of PHP) in
/usr/local/dev/sites.buildzoom.com/wp-content/plugins/facebook-comments-plugin/class-frontend.php
on line
99
On June 29, 2003, an overloaded porch collapsed in Chicago's Lincoln Park neighborhood, killing 13 people and injuring more than 50 others. An investigation into the tragedy revealed that, while the porch was probably overcrowded, its collapse was likely due to poor design and construction.
Since then, the City of Chicago has placed renewed and stringent emphasis on the design and construction of the porches for the city's many two- and three-story apartment buildings. The process of obtaining permits and getting the necessary approvals during construction can be long and arduous.
Fortunately for building owners in and around Chicago, Mr. Porch builds wood and steel porches that meet the highest quality and craftsmanship, and they will take care of the necessary architectural plans required for any job.
"We aim to offer a veritable one-stop shop for the design and building of porches attached to apartments," says Frank Knight, owner of Mr. Porch. "Our goal is to make the process of building or repairing a porch as seamless and as convenient as possible."
Three copies of the architectural plans must accompany the permit application for every porch built within the City of Chicago, and the drawings must be completed by a licensed architect. Rather than forcing building owners hire an architect and then hire a contractor to complete the job, the staff at Mr. Porch has architects they work with, making the process much smoother. They also handle the two on-site inspections that are required by the building department.
"We use the highest grade of wood available, and we use only triple-coated deck screws for all our projects," says Knight. "We make every effort to ensure our porches last for years to come."
Learn more about Mr. Porch on BuildZoom.
Comments
comments
Powered by Facebook Comments