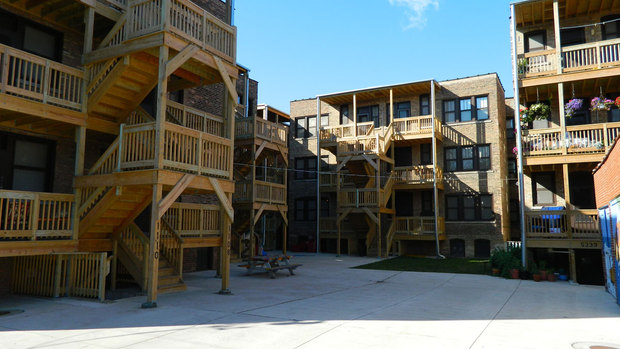 Warning
: Use of undefined constant linklove - assumed 'linklove' (this will throw an Error in a future version of PHP) in
/usr/local/dev/sites.buildzoom.com/wp-content/plugins/facebook-comments-plugin/class-frontend.php
on line
99
Porches are making a comeback. While decorative porches and decks have always been a great design element, the new trend is to create livable spaces that provide a space for relaxing and visiting with family and friends.
For builders and homeowners wanting to add this great element to a house, Mr. Porch is the best and most affordable in the Chicago area.
Mr. Porch not only personally thanks customers for their business, but also provides a two-year warranty on all craftsmanship, guarantees satisfaction, offers a six-month maintenance check-up, and provides plans and permits on every job. With their offer to water seal all their porch and deck work, it's a great time for homeowners to find out for themselves why this company stands above the rest.
"As a team, we make sure our customers get what they expect from a professional company," says owner Frank Knight, who has been in the business for more than 12 years. "We have built over 400 porches and have never failed an inspection."
The company uses only top quality, environmentally safe materials, fasteners, screws, bolts, hardware, and weather sealant. For homeowners or businesses with damaged porches, Mr. Porch will provide an on-site inspection with a city official. Free estimates and consultations are available.
"We strive to please our customers and our great customer service rewards us in return," says Frank. "We have discovered ways for our business to grow in all aspects and its working."
Learn more about Mr. Porch on BuildZoom.
Comments
comments
Powered by Facebook Comments