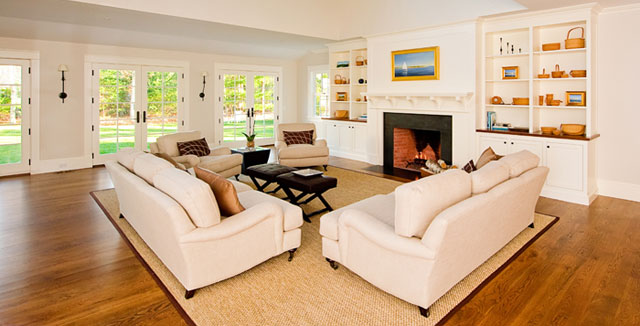 Warning
: Use of undefined constant linklove - assumed 'linklove' (this will throw an Error in a future version of PHP) in
/usr/local/dev/sites.buildzoom.com/wp-content/plugins/facebook-comments-plugin/class-frontend.php
on line
99
Toby Leary, owner of Toby Leary Fine Woodworking, was working on a custom home in Osterville, Massachusetts, when he got an unexpected visitor.  Ellen Valentgast, a builder of custom homes in the area, wanted to see for herself the kind of work Leary was capable of.  Impressed with his work, she invited him to bid on a spec home she was building on Oyster Way.  Leary beat two competitors to receive the contract, and he and Valentgas set about to create a luxurious yet classic interior for a 6600 square foot home.
"The client was very involved in the design process," says Leary. "We worked together to design the millwork, the casework, the vanities, really all the architectural details of the house's interior."
Based on his own extensive experience and the requirements of the client, Leary produced CAD drawings of all the work he planned to do. "The client had a great sense of their own taste," says Leary. "They just didn't know how to get there. We worked with them and presented drawings detailing how everything would look."
The project was a major one, with the budget for woodwork alone coming in at just under $180,000. But the results are spectacular.
The cabinetry in the kitchen and butler's pantry, the vanities in the bathrooms, and the built-ins in the mudroom are all soft maple. The countertops in the kitchen were made out of walnut. The standing trim throughout the home was poplar, and the floors throughout were plain-sawn white oak. The second story features a soaring octagonal ceiling fashioned out of sapele mahogany. Leary also constructed a built-in bookcase that adjoins the fireplace surround, which he also built.
The home received a great deal of interest, despite the downturn in the housing market, and it sold in a reasonable length of time.
Toby Leary specializes in interior woodwork and has worked on a number of high-end homes in the decade he has been in business.  Check this company out on BuildZoom.
Comments
comments
Powered by Facebook Comments