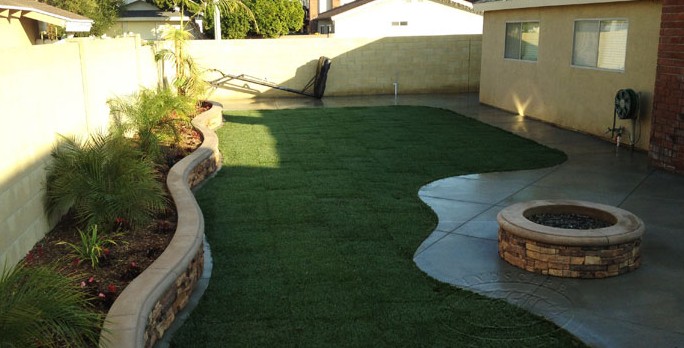 Warning
: Use of undefined constant linklove - assumed 'linklove' (this will throw an Error in a future version of PHP) in
/usr/local/dev/sites.buildzoom.com/wp-content/plugins/facebook-comments-plugin/class-frontend.php
on line
99
Hardscape has become the new buzz word for homeowners. The term refers to landscaping features constructed from inorganic materials and can include driveways, patios, walkways, water features, fire pits, and planters. While landscape installation may have been affected by the housing slowdown, homeowners have developed a deep love for their outdoor spaces and the hardscape business has remained relatively strong.
"We've seen an increase in hardscaping including larger patio spaces, outdoor kitchens, and fireplaces," says Tobi Ulemek, president of TRU Landscape Services. "Our customers are telling us they don't want a yard that demands high maintenance. We recently finished a job with a large concrete slab throughout the backyard which created a contemporary look we're noticing is becoming more popular."
No wonder hardscape is becoming a key component to an inviting outdoor sanctuary. Adding an outdoor kitchen allows families to entertain outside, drinking coffee on a patio is a peaceful way to start the day, winding through a garden walkway is always a pleasure, and an outdoor fireplace is pure tranquility after a hard day at work. In addition, hardscape conserves water, adds value to a property, and can divide areas for different purposes.
Material selection is important. A wide variety of choices are available to complement any home. For example, brick, stonework, or pavers can be used for a classic, elegant, or natural look or a contemporary look can be achieved by using concrete to establish stark contrasts and clean lines.
Homeowners should plan and install hardscape first before they begin planting. "Keep in mind all the possibilities when designing an outdoor space now and for the future," advices Tobi. "Homeowners should envision different options they would like to add over the years. If it isn't feasible to complete the entire project at once, the features can be added later as their budget allows."
TRU Landscape stays up to date on all the materials, methods, and latest trends. They carefully listen to homeowners' ideas and build on them to create an individualized beautiful retreat. With 25 years of landscaping experience and specialized teams, TRU Landscape can care for all of a homeowner's outdoors needs. To see samples of their work and learn more about this unique company, please check them out on BuildZoom.
Comments
comments
Powered by Facebook Comments