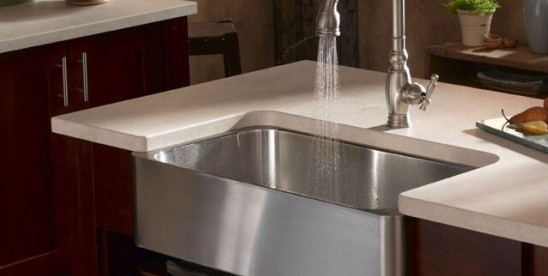 Warning
: Use of undefined constant linklove - assumed 'linklove' (this will throw an Error in a future version of PHP) in
/usr/local/dev/sites.buildzoom.com/wp-content/plugins/facebook-comments-plugin/class-frontend.php
on line
99
Apron front sinks used to be a design element of the past, but in recent years they have been on an up-sweep in the design world.
"They've really gained a lot of momentum," says Normandy Remodeling Designer Leslie Lawrence, "I'm especially seeing an increase of apron front sinks in white kitchens." People are using apron front sinks because they make more of a design statement; they're not something you'll see in every kitchen. "The sinks have also been able to make the transition to contemporary style kitchen, in addition to the traditional style they're typically used in," commented Lawrence, "Kohler has introduced a line of apron front sinks in a variety of bold colors, some that aren't as tall as traditional apron front sinks and that follow a linear principle – a sort of hybrid to the traditional apron front sink."
Apron front sinks come in four different materials, cast iron, fire clay, stainless and vitreous china. According to Lawrence, none of the materials are any better or worse than another, but homeowners instead come to a decision based on personal preference. "I've typically found that cast iron and fire clay tend to be more reasonably priced than stainless," says Lawrence, "Cast iron will give more of a simple look, whereas fire clay sinks are hand made and no two look alike."
A couple more elements to consider when looking at apron front sinks are whether the homeowner prefers a single bowl or double bowl. Both are useful, it just depends on the homeowner's kitchen needs. Also, it's common to have to order a special sink base to accommodate the front, an important aspect to keep in mind when budgeting your project.
Comments
comments
Powered by Facebook Comments