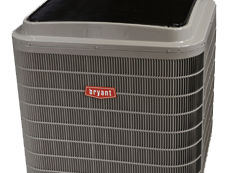 Warning
: Use of undefined constant linklove - assumed 'linklove' (this will throw an Error in a future version of PHP) in
/usr/local/dev/sites.buildzoom.com/wp-content/plugins/facebook-comments-plugin/class-frontend.php
on line
99
In Kentucky, it can get very cool in the winter and unbearably hot and humid in the summer. Staying comfortable can be difficult in those extreme temperatures  "We're committed to keeping homes and businesses warm in the winter and providing cool relief during hot Kentucky summer days, said owners of Air Clinic, LLC.
Air Clinic provides comfort to their customers by offering the latest in HVAC products. In order to maintain an updated product line, they have recently added the new Bryant Evolution Extreme Heat Pump. Air Clinic's mission is to use only the highest-quality heating and cooling systems to guide families and businesses toward the most energy-efficient and cost-effective system appropriate for their needs.
The Evolution Heat Pump is equipped with controls that monitor inside and outside conditions in order to provide customers with the greatest comfort. The perfect humidity technology can significantly improve indoor humidity control compared to standard comfort systems. This system continues to remove moisture even when it isn't actively cooling so customers can stay dry, cool and comfortable all summer long.
Air Clinic, LLC Heating & Air Conditioning Service has serviced thousands of HVAC systems for residential and commercial customers through the years and has the knowledge and experience to guide a family or business toward the most energy-efficient and cost-effective system to suit their needs. Their technicians are respectful and treat customers as if they were a member of their own family. Air Clinic is proud to be a local Bryant Dealer, provides 24/7 emergency services, and offers competitive rates with no overtime.
For more information about this company, call (859) 252-4328, or please visit their profile on BuildZoom.
Comments
comments
Powered by Facebook Comments