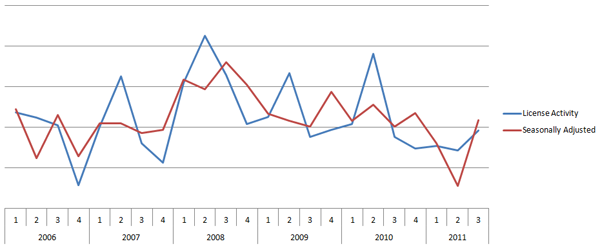 Warning
: Use of undefined constant linklove - assumed 'linklove' (this will throw an Error in a future version of PHP) in
/usr/local/dev/sites.buildzoom.com/wp-content/plugins/facebook-comments-plugin/class-frontend.php
on line
99
Based on analysis into California licensing data throughout the past quarter, we have concluded that there are signs that the remodeling and construction industry rebounded slightly in Q3 after a difficult Q2. Historically, license activity spikes in Q2 however in 2011, license activity actually declined to its lowest point since Q3 of 2007.
In Q3 however, license activity increased approximately 9%, quarter-over-quarter.  When seasonally adjusted, the increase becomes even more pronounced, indicating an increase of 35.5% in quarter-over-quarter activity.
In the quarter, many California contractors saw activity pick-up.  According to Bobby Miller, owner of LA-based Dumpstars Dumpsters reported, "We've seen a marked increase in business activity over the past three months.  Most of our customers tend to be cautiously optimistic about the outlook moving forward."
Other California contractors observed more volatility in the quarter.  Ali Bemanian, president of Pacific Play Systems, headquartered in San Diego explains, "We noticed a sharp upswing in the number of inquiries in July however activity cooled off in August as many of our customers became increasingly concerned with the economy.  In the past several weeks, we have seen activity begin to pick-up again however the state of the economy is clearly on the minds of many of our customers."
Whether this is part of a long-term trend or a temporary shift, due to increased consumer confidence during the earlier part of the quarter, remains to be seen.
In order to better understand the macro-level activity within the remodeling and construction industry, BuildZoom analyzed licensure data across a variety of industry-specific categories in the state of California. The data was then normalized across industry trade classifications and analyzed according to both absolute and deseasonalized values.
Comments
comments
Powered by Facebook Comments