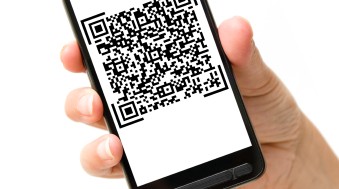 Warning
: Use of undefined constant linklove - assumed 'linklove' (this will throw an Error in a future version of PHP) in
/usr/local/dev/sites.buildzoom.com/wp-content/plugins/facebook-comments-plugin/class-frontend.php
on line
99
Although many people haven't heard of Quick Response codes (QR codes), they're expected to achieve widespread use this year – and for good reason. A QR code is one of the quickest and easiest ways to get information about your business into the hands of potential customers.
"We now have a landing page for mobile users who can scan QR codes," explains Nhorma Eischen, owner of The Screen Lady. "The ability of QR codes to connect people with each other and to multimedia digital content is very useful for businesses and consumers alike."
What are QR Codes?
Quick Response Codes (QR Codes) are basically a barcode on steroids. Barcodes are used by retailers to track inventory and price products and are linear one-dimensional codes that can only hold up to 20 numerical digits. QR codes with their horizontally and vertically grid of tiny squares, on the other hand, can hold thousands of alphanumeric characters of information.
What this means is when customers scans a QR code with their iPhone, Android, or Smartphone, they can link to your website or social media website, activate a number of phone functions including email, view photos or videos, read reviews or testimonials, or pull up a map and directions to your business.
QR codes eliminate the need to type out URLs or other data on tiny keyboards. As a result, clients no longer have to make a note of your web address or try to look it up. They can be instantly connected to you by scanning your QR code.
How can I use QR Codes to Help My Business?
Although this technology is changing everyday as people find different uses for this new technology, here are a few ways to use QR codes:
Use QR codes on business cards or marketing materials to direct scanners to your business website or Facebook page.
Reward scanners with a 10% discount.
Use the code on a mobile friendly landing page that promotes a new product or campaign.
Direct scanners to a video testimonial from a happy customer or a video interview with you.
Use QR codes to provide product information or show a how-to video.
Direct customers to a Google map to your business.
For more information about The Screen Lady, check them out on BuildZoom.
SD827TERUUA2
Comments
comments
Powered by Facebook Comments