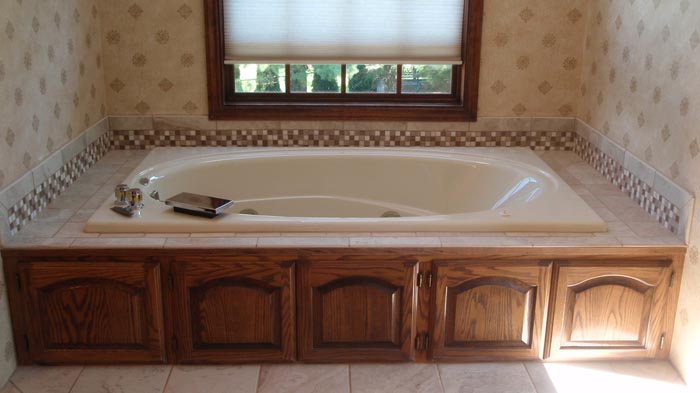 Warning
: Use of undefined constant linklove - assumed 'linklove' (this will throw an Error in a future version of PHP) in
/usr/local/dev/sites.buildzoom.com/wp-content/plugins/facebook-comments-plugin/class-frontend.php
on line
99
Go big or go home. If a homeowner is putting forth the time and effort to remodel their home, they want the best. While remodeling budgets vary, many homeowners have waited and saved their dollars to make drastic changes to a room, changes they have been pondering for a long time.
"While many homeowners want a kitchen remodel, they sometimes experience sticker shock at the price of their dream kitchen," observed Andrew Parrott, owner of PollyBro Home Remodeling.  "Since they couldn't have their dream kitchen, we began seeing homeowners put their renovation budget toward bathroom remodeling."
Remodeling Magazine estimates the difference between bathroom and kitchen remodeling to be a difference of over $40,000. PollyBro Remodeling Company has seen an increase in the amount of bathroom renovations over the past year. "People don't just want a bathroom update, they are looking for a spa inspired atmosphere," said Andrew.
In order to present customers luxury results within their budget, PollyBro Remodeling decided to focus on high end bathroom renovations. Some of the luxury features homeowners want include bubble tubs. "Air bubble tubs or champagne tubs are replacing traditional Jacuzzi tubs," said Andrew. The jets pump out air instead of water, requiring less maintenance and no chemicals.  "Bubble tubs are self-cleaning, so you don't have to clean the line out with chemicals like you do with traditional Jacuzzi tubs and they are much quieter," said Andrew.
"Homeowners are getting away from the standard bathtub shower combination and preferring walk in showers," said Andrew. Many walk in showers are bigger and equipped with luxury features like; rain can shower heads, spray jets, wall inserts, and frameless glass shower doors.
"We have recently connected with a new tile distributor and can get great prices on natural stone so we tend to shy away from ceramic," said Andrew. "Marble and travertine are what most of our customers want." Natural stone is being used for shower benches, corner shelving in the shower, flooring, walls and vanity countertops. "Custom stone countertops, give homeowners more style options, they have choices beyond store countertops, said Andrew.
"People are in the bathroom more than any other room in the house, they want it to be visually appealing, a sanctuary and we want to help them achieve their goal" said Andrew.
To learn more about this company, check out their profile on BuildZoom.
Comments
comments
Powered by Facebook Comments