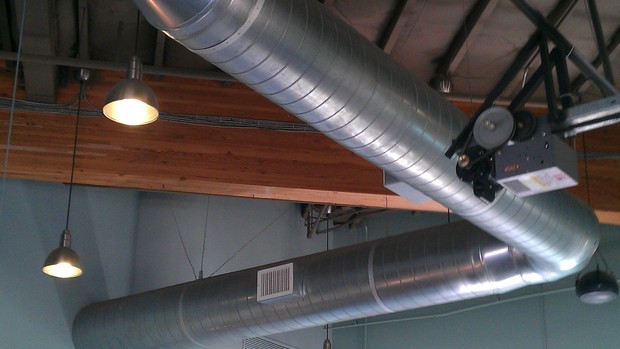 Warning
: Use of undefined constant linklove - assumed 'linklove' (this will throw an Error in a future version of PHP) in
/usr/local/dev/sites.buildzoom.com/wp-content/plugins/facebook-comments-plugin/class-frontend.php
on line
99
As Angiel Air prepares to celebrate their anniversary, they are delighted over the growth of their business in a lagging economy. "Over the last year, we have doubled in size, we feel like it is confirmation we are doing things right," said Joshua Angiel, owner, of Angiel Air Inc., along with his wife Jennifer. In order to keep the company moving up, they are offering an expansion in their heating and air conditioning services, along with special offers and a new maintenance agreement.
Clothes dryer fires account for 15,600 structural fires, 15 deaths and over 400 injuries annually, according to FEMA, Federal Emergency Management Association. "Failure to clean" is the leading factor contributing to clothes dryer fires in residential buildings. Angiel Air will be providing Rotobrush services to clean clogged dryer vents to help prevent fires and improve dryer efficiency which will reduce energy use. Air duct cleaning will also be provided. "Cleaning air ducts is the foundation of indoor air quality solutions, customers value the quality of air in their homes," said Joshua.
In an effort to help customers achieve improved indoor air quality and comfortable temperatures this summer, Angiel Air is offering a special spring and summer coupon. Homeowners can receive a full system check up of their AC and furnace for $55.00. The usual price is $180, a savings of over 65%. "We have done the research and you cannot beat that price," said Jennifer. Each additional system can receive a check up for $30.00. A copy of the coupon can be found and printed from the Angiel Air website.
Regularly scheduled air conditioning and heating system inspections are the best way to maximize energy efficiency in the home and reduce the amount of emergency calls for HVAC repair.  "HVAC inspections can also reveal potential problems that can be corrected inexpensively before they cause major repair bills," said Jennifer. Member benefits include: first in line for service, great value on pricing, energy saving equipment on all brands and the convenience of the company contacting the homeowner for service reminders. The system check agreement provides detailed air conditioning and heating cleaning for one year.
"Our service agreement gives customers peace of mind that the AC is working properly," said Joshua.
For more information about this company call (909)923-9086, or check out their profile on BuildZoom.com
Comments
comments
Powered by Facebook Comments