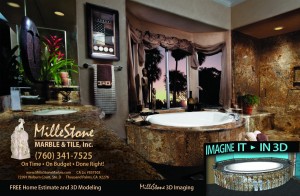 Warning
: Use of undefined constant linklove - assumed 'linklove' (this will throw an Error in a future version of PHP) in
/usr/local/dev/sites.buildzoom.com/wp-content/plugins/facebook-comments-plugin/class-frontend.php
on line
99
Giving life to an artistic concept can be challenging. Trying to describe that concept to a client can be grueling. Mark DeMille, owner of Millestone Marble and Tile, has discovered, by utilizing the latest in 3D design software his clients can see a virtual replica of his designs and concepts.
"A customized fireplace surround, travertine countertop, bathtub or piece of furniture is clearly unique and not something that can easily be conveyed, if it has never been seen," said Mark.
Using 3D modeling software allows the client to visualize the design better than a sketch; spatial values are better represented so a kitchen or bathroom remodel can be seen to scale. "Once the design is complete, we can post it up on the big screen and the client and I can work together tweaking the design until we get it just right, it is a great collaboration tool" said Mark. Producing virtual lifelike concept drawings helps to aid clients in the decision making process.  Once the design in completed, shop drawings are created for stone fabrication shops to produce the design. This design service is now recommended with every project.
Mark is not the only artist is his family, his father, Leslie B. DeMille, is a world-renowned portrait artist and sculptor. With a legacy of artisans, Mark has managed to mesh his artistic talents with functionality to produce signature designs, like his latest unique, engineered design, the Congra-G8 table (patent pending). The table is produced with sustainable materials, custom colors and seats 8. It is currently on display at the El Dorado Polo Club's, The Cantina in Indio.
"I enjoy bringing a client's vision from concept to reality," said Mark.
To learn more about this special company call (760) 341-7525, to see photos of their stunning work, please check out their profile on BuildZoom.com.
Comments
comments
Powered by Facebook Comments