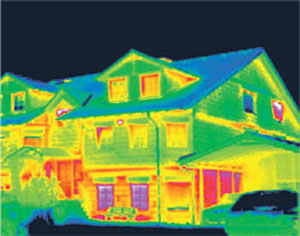 Warning
: Use of undefined constant linklove - assumed 'linklove' (this will throw an Error in a future version of PHP) in
/usr/local/dev/sites.buildzoom.com/wp-content/plugins/facebook-comments-plugin/class-frontend.php
on line
99
With many homeowners focused on optimizing the energy efficiency of their house, thermal imaging equipment is quickly becoming the tool of choice for helping professionals see how, when, and where energy saving solutions can be implemented.
"A whole building approach is needed to maximize energy efficiency of a home," explains Travis Leonard, owner of Leonard's Air and Energy Service. "Infrared thermography can scan an entire home or building to see whether an indoor environment is compromised by poor performance of mechanical and electrical units, incorrect airflow distribution,  inadequate or poorly sealed ductwork, poorly sealed windows and doors, uneven temperature distribution, and other issues relating to heating and air conditioning systems."
One of the key areas where the greatest energy savings opportunities can be found is the HVAC system. Leakage issues in particular can be a prime cause of wasted energy.
The good news is that although HVAC system leakage is a common problem, the remediation is relatively simple and cost effective. In most cases, a leakage inspection will uncover at least a 15 percent potential savings in energy costs. With the added accuracy and speed of thermal imaging technology, those savings could be even higher. In addition, by identifying problems appropriate maintenance can be carried out before a complete breakdown occurs.
In addition to thermal imaging, Leonard's Air and Energy Service offers a wide range of services including the installation, replacement, and repair of air conditioning and heating equipment, duct sealing and repair, tune ups, air balancing, and much more.
Just in time for summer, Leonard's Air and Energy Service is offering $35 off any air conditioning repair. For more information, please check out their profile on BuildZoom.
Comments
comments
Powered by Facebook Comments