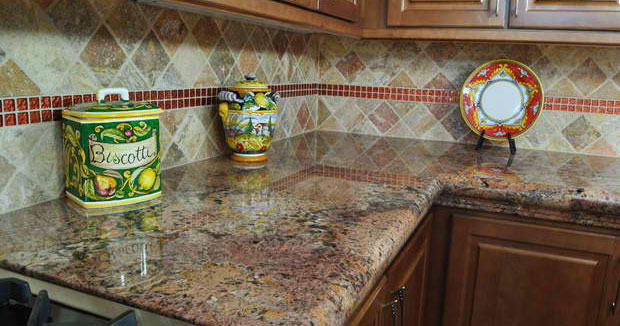 Warning
: Use of undefined constant linklove - assumed 'linklove' (this will throw an Error in a future version of PHP) in
/usr/local/dev/sites.buildzoom.com/wp-content/plugins/facebook-comments-plugin/class-frontend.php
on line
99
Millestone Marble and Tile has served clients in the Coachella Valley for 30 years at the corner of Cook and 42 Street in Palm Desert, but recently moved to 72091 Woburn Court in Thousand Palms. The new location provides easy Interstate 10 access.
"We are excited to relocate and take advantage of a new, updated facility in the Enterprise Zone," says owner, Mark DeMille. "Our new home is in the new industrial park in Thousand Palms and right off Rio Del Sol, where the new Bob Hope Drive freeway off-ramp exits. We are looking forward to continuing our fine tradition of excellence at our new location."
Their new offices will soon include an updated showroom that will not only have one of the largest selections of granite and marble in Southern California but will also include all the latest designs and styles. The new state-of-the-art showroom is scheduled to open in April 2012.
In three decades, this small family business, formerly known as DeMille Marble and Granite, has grown to become a thriving, successful enterprise with the largest inventory of slab product of any contractor in the Coachella Valley. They are the premier source and authority when it comes to upgrading, remodeling, or customizing a home with granite, marble or travertine. Their wide range of services includes consultation, design, fabrication, and installation of countertops, bathroom vanities, flooring, fireplace surrounds, and furniture made from natural stone and porcelain.
Mark's creativity as an artisan runs in the family. His father, Leslie B. DeMille, is an artist whose work includes a bronze sculpture that adorns the Reagan Library and a distant cousin is another famous DeMille. "I'm related to Cecil B. DeMille, the famous director of Sunset Boulevard and The Ten Commandments," Mark explains. "Cecil is a distant cousin of mine some generations back."
Active in their community, Millestone Marble and Tile has contributed to a variety of projects including the Lost Airman's Memorial on display at the Palm Springs International Airport, The Holocaust Memorial at the Palm Desert Civic Center Park, and the majestic stone statue of a bighorn sheep located near the DeMille showroom. The father of five children, Mark has also been a big supporter of Palm Desert High School.
To learn more about this special company and see photos of their stunning work, check them out on BuildZoom.com.
Comments
comments
Powered by Facebook Comments