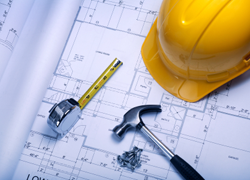 Warning
: Use of undefined constant linklove - assumed 'linklove' (this will throw an Error in a future version of PHP) in
/usr/local/dev/sites.buildzoom.com/wp-content/plugins/facebook-comments-plugin/class-frontend.php
on line
99
After arriving home from his travels overseas, Eric Welch of Eric Welch Painting was feeling ready to work again and took a job painting a homeowner's basement. With little ventilation available, the fumes from the latex paint built up to dangerous levels. Slowly, as it usually does, the uneasy feeling of paint sickness set in, a feeling like motion sickness but with much more dangerous and long lasting health effects.
"Do not fool yourself," says Welch, "Latex paints are not harmless. They contain volatile organic compounds (VOC), which can be damaging to the health of your brain. Even in low concentrations, they have been shown to cause memory loss, fatigue, dizziness, confusion, and even depression." Welch says he has experienced most of those symptoms during his 10-year career as a painter.
Indeed, both short and long term exposure to these fumes can and will most likely affect you in a variety of ways, which are more serious than often expected. As the American Lung Association has reported, "VOC's can produce a number of physical problems such as: eye and skin irritation, lung and breathing problems, headaches, nausea, muscle weakness and liver and kidney damage."
Alarmingly, typical household paint contains up to 10,000 chemicals, of which 300 are known toxins and 150 have been linked to cancer.  Some of the most harmful chemicals found in paint are VOCs.
With this in mind, Eric Welch Painting is announcing that his company will be switching to zero-VOC paints on all indoor residential projects and low- to zero-VOC paints on all exteriors. "I'm going to do what needs to be done to ensure that the risks inherent in latex paint are no longer an issue," says Welch. "It will be safer for me and my employees, and it will also be safer for the homeowners and their families."
Many manufacturers offer paints without VOCs, including Sherwin-Williams Harmony and Benjamin Moore, Eco-spec. These paints also have significant convenience advantages: they dry quickly and barely give off an odor, allowing the building to return to use shortly after painters finish their work.
Eric Welch Painting will begin using zero- and low-VOC paints immediately. Please check them out on BuildZoom.
Comments
comments
Powered by Facebook Comments