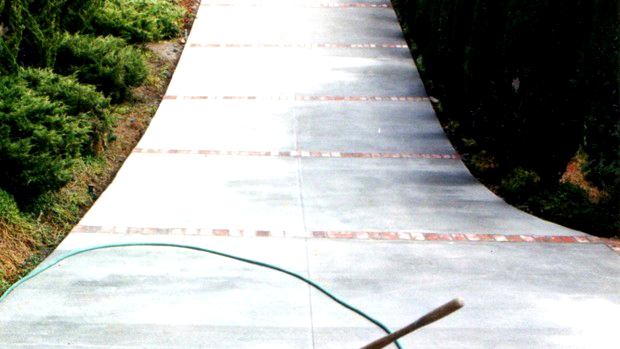 Warning
: Use of undefined constant linklove - assumed 'linklove' (this will throw an Error in a future version of PHP) in
/usr/local/dev/sites.buildzoom.com/wp-content/plugins/facebook-comments-plugin/class-frontend.php
on line
99
Concrete is a sturdy, durable material, not exactly what someone envisions as a hot new design element, but concrete has come a long way baby. Concrete no longer has to be dull, gray and boring. With a stout and less expensive material like concrete, it is no wonder improvements have been made to transform it into a highly decorative and desired choice by many homeowners.
Jan Gruen has over 30 years of experience in the concrete business and owns Jan Gruen Concrete. He discusses the concrete trends he has observed over the past year.
"Stamped concrete is becoming more popular with homeowners," said Jan. With concrete being a less expensive material, stamped concrete has risen in popularity. Stamped concrete is concrete that has been textured or patterned to resemble more expensive materials like; stone, granite and tile. Stamped concrete is being seen in driveways, entryways, pool decks and patios.
Concrete stamps are available in a variety of different patterns. Manufactures try to duplicate stamps that most closely resemble a natural stone aesthetic. Jan has observed, "Lately, more homeowners are choosing larger patterns for their stamped concrete."
Stamped concrete also offers an assortment of colors to chose from but Jan has noticed, "more people are choosing natural colors, like warm browns and slate, even customizing their own colors."
Concrete is not just for the outside. Concrete floors are being showcased in entryways and kitchens. Like exterior concrete, it can be stamped, stained and polished to mimic more expensive materials at a fraction of the cost.
Concrete countertops provide an updated, modern look to kitchens, which is a trend rising in popularity. "You cannot beat the durability and pricing of concrete countertops. Homeowners also appreciate the custom options that are available with concrete counter tops," said Jan.
Jan has been working in the building industry for over 30 years.  Learn more about them on BuildZoom.
Comments
comments
Powered by Facebook Comments